"Every language can express anything and everything. Poets are the smiths in the workshop of words and new meanings; they have an enormous role. In a way, poetry writing is a political act—if it continually tests the limits of language. Poetry can breathe new meanings into common words, or gives them a new life by reactivating their old meanings. This is extremely important for the progress of society and individuals; it's an invisible driving force. True poets are revolutionaries. Poetry writing is a permanent revolution." (Ana Jelnikar)
Ana Jelnikar, PhD, is a scholar and translator of Slovene poetry. Born in Slovenia, she completed her middle and high school in England, then returned to Slovenia to study at the University of Ljubljana, and continued her post graduate education at the University of London's School of Oriental and African Studies. Her book on Slovene poet Srečko Kosovel (1904-1926) and Indian poet Rabindranath Tagore (1861-1941) is about to be published by Oxford University Press.Her first U.S. published book Mister Today (Jacaranda Press)—the English translation of Slovene poetry collection Gospod Danes by Iztok Osojnik—was nominated for the Pushcart Prize in 2003.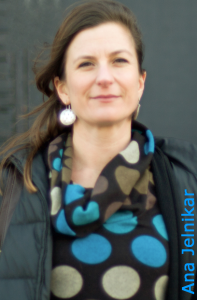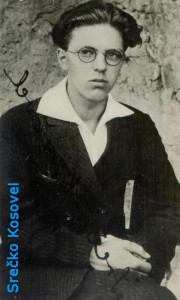 The most current publication in the U.S. is
Look Back, Look Ahead: The Selected Poems of Srečko Kosovel, co-translated with Barbara Siegel Carlson, published in 2010 by Ugly Duckling Presse, Brooklyn, NY
. The selection of poetry, translation, and accompanying essays received great reception. In April 2010, the publication was the 5th best selling book of poetry in translation from among 400 independent American publishers. An amazing achievement. It was chosen by The Prague Post as one of 10 best poetry collections in 2010, alongside Rainer Maria Rilke, Fernando Pessoa, Derek Walcott. Thus Srečko Kosovel, a poet writing in Slovene language in the 1920s, appeared in a company of great names in poetry. The Best American Poetry 2010 also placed Look Back, Look Ahead on the list of its 10 best poetry anthologies published in the U.S. that year.
Dr. Jelnikar is currently visiting New York City as the selected Slovene artist for the month of March, one of twelve artists that are awarded a residency in NYC by the Slovene Ministry of Culture each year. Slovenia maintains four artist's apartments in the U.S. and Europe: Brooklyn, NY, London, Berlin, and Vienna. The competition is fierce, and only the most outstanding contemporary Slovene artists are granted one month of rent-free residency.
---
Marta Stemberger: Why New York, and not London?
Ana Jelnikar: For many years now, I've been working with American poets, translators, and publishers. I've collaborated with American poets Bridgette Bates, Matthew Zapruder, Joshua Beckman, Kelly Lenox. The book Look Back, Look Ahead was published by Ugly Duckling Presse in Brooklyn, NY.
In addition, the poet and co-translator Barbara Siegel Carlson is an American who lives not far from New York City. We collaborated on Look Back, Look Ahead for four years. The goal was to introduce Kosovel—from his more lyrical and impressionistic poems to his avant-garde verse—to readers who have never heard of him before. The U.S. environment has always been a very grateful audience for Slovene poetry; yet, the great reception of Kosovel exceeded all my expectations.
---
Marta Stemberger: It continues to surprise me how poets from a tiny Slovenia not only get translated into English and published in the U.S., but also have a strong and faithful following among American poets. Why?
Ana Jelnikar: The U.S. response to Slovene poetry is indeed encouraging. The reason for this might be the staunchly internationalist bent of American poetry itself that looks to outside traditions for nurture, as well as the fact that many Americans have historical links through personal biographies with East-Central Europe.
For sure, many young American poets are very interested in Slovene poetry, and have even visited Slovenia several times, going to poetry festivals there. Slovene poets have also visited the U.S. So exchanges abound, especially in the last decade or so. At the same time, at least since the 1960s, Slovene poetry has been profoundly influenced by American culture in general and poetry in particular. One cannot understand Tomaž Šalamun without being aware of the strong impact of the whole Beatniks generation—Allen Ginsberg, Lawrence Ferlinghetti, Jack Kerouac—on his work, as well as John Ashbery. Or, to give another example, the poetry of contemporary Slovene poet Tone Škrjanec, also published by Ugly Duckling Presse, is definitely indebted to his reading, as well as translating, Frank O'Hara.
---
Marta Stemberger: You mentioned Ugly Duckling Presse again.
Ana Jelnikar: Ugly Duckling Presse, under Matvei Yankelevich, has a niche for Slovene poetry in English translation. They're very interested in Central European poetic expression of Slavic roots, and have published several of Tomaž Šalamun's books, including his first collection Poker (translated by Joshua Beckman and Tomaž Šalamun), as well as collections of Škrjanec; Jure Detela is forthcoming. Mr. Yankelevich was also immediately interested in Kosovel.
In some way, the U.S. is a logical extension for Slovene poetry in English translation. My role as a translator is to facilitate this connection, mainly in collaboration with American or English poets. I don't write poetry myself, but I've always been drawn to poetry, and I truly love to work with poetic language. I lived in England from age 12 through the end of high school, and then returned for post-graduate work, and thus English became close to me. There's a great need by Slovene poets for translation into English. Poets and writers may write from an existential need, but they also write to be read. Writing in Slovene gives you only a very limited circle of readers. If a poem doesn't circulate, it lies dormant, dead, as it were. This can be painful for the author. And this is where I see my role. Somehow I try to make possible for some poets to find their audience beyond the Slovene readership as well. But I also love the process, and it is probably the closest I will ever get to writing poetry myself.
---
Marta Stemberger: How did you get into translating poetry?
Ana Jelnikar: I first started out of a desire to see how a Slovene poem would work in an English translation, and if I was even capable of such an accomplishment. The first poem I translated was a poem by Uroš Zupan, "A Woman of Light". I took it to the International Poetry Festival in Medana, Slovenia, and showed it to American poets, including Brian Henry. "Yes, it works as an English poem", they said. I was encouraged.
---
Marta Stemberger: How do you approach translating a poem?
Ana Jelnikar: Poetic language is the most dense and semantically rich language, also highly economical: A lot is conveyed with only a few words. At the same time, it's a very precise language, and in translation you strive for that precision. It's a multilayered process. I first try to make a translation as literal as possible. However, there's no such thing as a literal translation. Words have different associations in different contexts and cultures. So, the next phase is to reach behind the words, for the nuances of meaning, and also to capture the mood, the tone.
If I'm translating a poet who's still alive, I'm able to talk with her or him, this way gaining a privileged access to their intended meaning. Luckily, they're often more than willing to talk about their poetry. I soon realized that even the most abstract poems speak about quite tangible things, and that there's often an actual experience behind what is being said. To know this helps you translate the poem.
But when a poet is no longer alive, such elaboration is not possible. Then one has to try hard to get a strong enough sense of where the poem is coming from. For Kosovel that meant reading through all of his collected works and letters to understand the personal and historical contexts within which he was working. At the end, I felt I really understood what he wanted to say in a given poem.
The end goal is that translation works as a poem written in the target language. Yet, at the same time, it cannot be fully naturalized. I disagree with Robert Frost's saying that poetry is lost in translation. But I agree with his idea that at the end of a good translation, the reader is always a little sad that s/he cannot read the original. The umbilical cord between the original and the translation is never quite broken. A slight sense of foreignness is essential to a good translation, indicating that the verse comes from a different environment. A translation is, after all, a window onto another world. Of course, we don't want the reader to say, "Oh, this doesn't work in English". We're striving for a delicate balance here. I achieve this balance by collaborating with an English or American poet, someone who understands how poetic language works in their environment. S/he brings her or his baggage and I bring mine. When these two worlds meet, I feel that a satisfying translated poem arises.
---
Marta Stemberger: Yet, as a Slovene I'm always a little disappointed when I read an English translation, albeit a good one.
Ana Jelnikar: A poet walks half of the road; the second half needs to be done by the reader. The reader needs to actively participate in the process by bringing her or his own experience, knowledge or ignorance, language sensibility, and make something of the poem. An American would read the same Slovene poem in English translation differently than a Slovene or German. And it should be so. A good translation, as I've said, should always cause a little sadness that you're not reading the original.
Barbara Siegel Carlson is a rare, but interesting example: She started learning Slovene to be able to access the original. She was so smitten by Kosovel—reading him in French translation—that she came to me and asked if we could collaborate to translate his poems into English. We met at a seminar in Bled, Slovenia, organized by the Vermont College's Creative Writing Program. She was introduced to Kosovel's poetry by Richard Jackson who's been coming to Slovenia for decades, and loves Slovene poetry from Prešeren onwards.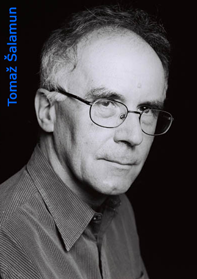 Marta Stemberger: I've read that Slovenes are a nation of poets, that almost everyone in Slovenia is a poet.
Ana Jelnikar: When Americans come to Ljubljana, they always notice that we have statues of poets, not generals, Prešeren being the most obvious example. It's our particularity.
Our identity stems specifically from our language, as it was launched, articulated, elevated—and stubbornly maintained—by poets and writers. In this sense, yes, we're a nation of poets, and this tradition has not died.
In January, at a reading to honor the recently deceased Tomaž Šalamun (1941-2014), I was astonished at how many young people came to contribute to this event. There were over 300 people, many of them young poets and poetry lovers. I didn't expect such a response. This says something about people's actual need for poetry.

Marta Stemberger: It's interesting that even today—when the internet is everywhere and half of the world speaks English—the desire to express oneself in one's own native language is still alive amidst small nations.
Ana Jelnikar: Yes, and perhaps the awareness is even greater precisely because the pressure of this global language is so great. The counter force is that people root themselves more deeply in their own language. If you're coming from this core, you can then branch out as far as you want. Šalamun is an excellent example. He brought into his poetry words that were never used in Slovene poetry before, colloquialisms, jargon, newly coined words, as well as words from many other languages. He was not a purist. But he wrote in Slovene the whole time. He was never seduced to switch. "I got tired of the image of my tribe and moved out," he says at the beginning of Poker. He moved out metaphorically so that he could move back in with an international and global vision. He opened the Slovene language to an international experience. No, we will not wither away as a poetic nation.
The problem is not poetry, the problem is social: People are bored of each other's faces in this small nation. The dialogue therefore stagnates within narrow confines, or does not even happen. The poetic transaction, it seems, must go through the English world. Šalamun has not been read as much in his native country as he should be, but now we're proud because he's the most recognized Slovene poet in America! That's not right. Both responses are extraneous to the poetry itself. I often feel that if people in Slovenia didn't know each other, but simply just read one another, we could have a wonderfully constructive exchange also amongst ourselves.
---
Marta Stemberger: At the reading in honor of Tomaž Šalamun at the Ugly Duckling Presse in Brooklyn, NY, on March 8, American and Slovene poets shared their deep respect for Šalamun as a person and for his poetry, and how profoundly his verses influenced them even in the English translation. I became acutely aware of the importance of translation to inspire poetic movements across languages and cultures.
Ana Jelnikar: Yes, absolutely, and it goes in both directions. American poets influenced Slovene poets and vice versa.
It was interesting when a poet Susan Thomas, whom I just met in New York, showed me one of her poetry books: I opened it, and there was a stanza from Edvard Kocbek in an excellent English translation. But it was Kocbek I didn't know because in English his voice seemed different. Yet, that voice for her, as an American writer, was crucial for her own creativity. This is just one of many such crossovers.
---
Marta Stemberger: We enrich each other across language barriers when we translate poetry.
Ana Jelnikar: We do, indeed, but there'll always be those spoil-sports who'll say: "Oh, translation is futile. Only the original holds." We live in a world of myriad languages but we can only learn so many in a lifetime. We'd be starved without translations. So translators are—willy-nilly, for better or for worse—the necessity. To translate or not to translate.
---
Marta Stemberger: I liked when you mentioned that a poem needs to be read.
Ana Jelnikar: After all, poetry is spoken word, and the sound is of vital importance. It shouldn't be ignored. That's why translations—once done on paper—need to be read out loud. If the translated poem also sounds right then, then I'll say: "Yes, this is now a poem."
It may sound crazy, but the way language is used can change the world. We communicate and think through words, and our actions reflect the way we think. Today people think that culture is some separate, useless attribute of society that we can dispense with and then focus merely on economic matters. I don't understand this. With no soul food? When you hear a poem and you feel the language ripple through you, you are changed. The experience has touched you. What else is there?
Marta Stemberger: What are your plans for the future?
Ana Jelnikar: I'm currently making a selection of love poems by Meta Kušar, and translating it with Barbara Siegel Carlson and Stephen Watts. With Watts, I've already co-translated Kušar's collection Ljubljana (Arc, 2004), which was published and well received in England. Her poems—collected in six books by now—represent a compelling body of work, unique within contemporary Slovene poetry, and her work, I feel, lends itself well to being interpreted through the notion of love poetry.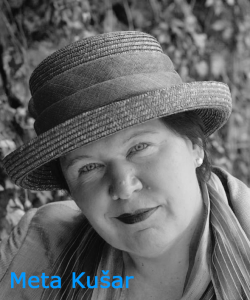 Kušar's poems are highly individualistic in expression; they offer the reader a strong experience. We tend to see violence as the strongest social force that changes society; to an extent this is true. But we forget that love is just as strong a social force. Kušar uses love in the widest, yet very tangible sense. There's a real, intimately felt relation to the world, to actual things… to cooking, to friendship, to physical love; but there's also mystery. I'd like to put this in the context of Slovene love poetry as well as broader influences, and offer Kušar's work to international circles. Right now I'm translating, selecting, and, of course, looking for a publisher.
---
---
OVER TO YOU
And now a question for you, dear readers, how do you experience poetry in translation? Share your thoughts below.
---