It was a pleasant weekday late afternoon in early June at the Washington Square Park in New York City. Chess players were engaged in their game close by, as we were sitting on wooden benches, shaded by the green canopy of trees full of birds. People of all types and colors were passing by. And of course, there were always dogs and squirrels running around.
"Look! What's that?" says the ever observant Marjan Stanić, pointing at someone's carrying case.
"Mhm, perhaps, it's a violin," I offered.
"The shape is very interesting", he ponders. "Maybe there are two inside."
Then he continues: "The other day, at the Williamsburg Flea Market, I saw these old suitcases from the 1970s. Probably cosmetic cases. They were great. The shape and dimensions were just right for a couple of frame drums. I may go back and get them."
"Yes, these are the kind of things one finds in New York," says his partner Gordana Bobojević. "The diversity and freedom. That's what makes New York City different. We don't have it in Slovenia. Even though it's neither fair nor right to compare the two. One needs to observe and take the best of what each world has to offer. The diversity and freedom of expression on the street, that's New York's strength."
"Even though everything is more and more gentrified," I explain. "You can only paint graffiti on allocated spaces; you have to have a permit to play on the subways and parks. What used to be spontaneous, from the soul, is now organized, naturalized. You need to go through someone's radar to get a yes."
"So before it was wild, and now it's domesticated," adds Marjan.
Marjan Stanić, the Slovene artist-in-residence in Brooklyn this June, is a versatile drummer and percussionist with deep sensitivity to the sound's colors and rhythms. Born in Bitola, Macedonia, he lived his whole life in Ljubljana, Slovenia. He's been playing in various ethnic and jazz bands, such as Šukar, Jessica Lurie Ensemble, Vasko Atanasovski Trio, to name just a few. He also creates music for movement classes and performances—the latest was "Hit / This Is Not a Hit" by Slovene choreographer Matej Kejžar—and teaches percussion workshops.
---
EXCITING DIVERSITY OF FOOD AND EVENTS
Marta Stemberger: Why did you choose New York, and not London, Berlin, or Vienna where Slovene Ministry of Culture also maintains the artist's residence?
Marjan Stanić: Because of food, of course. I can try everything here in New York, and I really like that. The problem is that prices are now much higher than in 2011 when I was here the last time. I guess mainly because of the exchange rate between euro and dollar.
Marta: So you chose New York because of food? You have a diverse selection in London as well, maybe even in Berlin, not so much in Vienna.
Marjan: Well, I was joking a little, even though New York is truly great from the culinary perspective, a gourmet's heaven.
I could have asked for Berlin as well, but I went for New York because I have the most music connections here. I did two tours with the saxophonist Jessica Lurie. Then there is Marko Djordjevic who teaches at the Drummers Collective School of Music in NYC. We've been talking to do something together. I'll play with him as a guest percussionist for his band Sveti on June 19 at the Whynot Jazz Room in West Village. I'm also in contact with the Slovene saxophonist Jure Pukl. And I'm getting together with various musicians for jam sessions.
There are lots of music events here. The Blue Note in the Village has a jazz festival this month. We went to Shake Shifter Lab in Brooklyn, a place run by the bass player Matt Garrison. And tonight we are going to the Slavic Soul Party gig in Brooklyn.
When you come only for a month, you have to set limits while staying open. There's so much happening all the time. Food, music, museums… It's financially draining. You also get physically tired from walking all the time, and there comes a point when you can't absorb anything any more. It's wonderful, the best, and I would definitely come back in a few years.
---
Marta: You mentioned that you have performed in the U.S. before. What type of music have you played here?
Marjan: The compositions were influenced by Balkan, Orient, Mediterranean music. Gypsy influence as well. I don't play mainstream jazz.
Marta: What was the response among the American audience?
Marjan: The response was always very good. But we must keep in mind that we are talking about nicely packaged Balkan influenced music, not the raw ethnic Balkan sound, but jazz with Balkan undertones, a crossover. Even though I'd prefer to play pure ethnic music. People here like beautifully served stuff, nothing too disturbing or forceful or shocking, just a touch of melancholicly wrapped in jazz. That's what feels more comfortable to them. Well, jazz is strong here; this is its home.
Marta: Well, yes, but there are different styles of jazz. The so called "white intellectual jazz" can be a bit empty.
Marjan: Of course it's a bit empty. Jazz comes out of the experience, out of the real life of black people.
Gordana: Each music is linked to a particular culture. If Americans want to play Balkan music, for example, they play it out of their own experience, and the result is not necessarily bad.
Marjan: No, it's not bad, but they just need to be aware that it's not the original thing. That's all. It's the same as with food.
Gordana: Or any other thing.
Marjan: Because it's about ethnicity: food, music. Ethnicity is at the core. Same with jazz.
Gordana: There must be honesty.
Marjan: Exactly, honesty.
Marta: White musicians discovered this jazz music played by black musicians, found it interesting, began to intellectually understand and then perform it. But when I listen, nothing happens, I get bored.
Gordana: Because it only goes through the mind, and not through the body.
Marta: I thought there was something wrong with me, that I don't know how to listen to jazz. Until I talked with some black jazz players. Then I understood. Something is missing in white intellectual jazz because they don't understand the black soul. And they can't because it's not their culture. White musicians play jazz their way, which is fine, as long as their way is not considered the true jazz, because it cannot be.
Gordana: There are also feelings. We are noticing that here in the U.S., the Americans are good at presenting things well, wrapping them nicely in images and in spoken words. There are many things, but it doesn't mean that each one is sincere. One needs to pay attention to discern what's what.
Marjan: That's right.
Marta: We can't forget that the U.S. is very much a capitalist country. And to be successful in capitalism, all one needs is one tiny good idea and then a magnificent marketing around it. Americans are good at this. And so are Slovenes, actually, better than other Balkan nations.
Gordana: But we are still babies in comparison to Americans.
---
ETHNIC MUSIC AND SINCERITY
Marta: Marjan, I liked when you wrote on your Facebook page: "Prokleta je Amerika i zlato što sja" (Damned be America, and its shining gold).
Marjan: That's a song from Šaban Bajramović.
Marta: Yes, but why did you write it?
Marjan: Well, that's what it is. The gypsies knew this for a very long time. Because they are more in touch with their feelings. The gipsy tradition has a particular sincerity in perception, the gipsy style stems from their soul.
Marta: You are playing drums and percussions?
Marjan: Yes, drum set, various drums and percussions. There are frame drums, like def. Then we have tambourines, which are frame drums with jingles. There are gazillion of them–riq, daire, Italian tamburello–each with their own playing technique. I play different drums, like sombati, doholla, Armenian dhol, zarb, congas, bongos, tapan; also clay drums, like udu, ghatam. We also have a Slovenian clay drum. There is cajon, and metal percussions, from spoons and scissors to zill and qarkabeb.
Marta: How do you approach creating music on drums and percussions? What is your process, what happens inside you when you play?
Marjan: I don't know. I play. It's about sound. The rhythm. I enjoy it.
Marta: How and why did you start playing?
Marjan: It was sometime between the middle and high school. I used knitting needles and cushions. I was listening to music and played along. This was in the early 1990s.
Why? I can't really answer because I never thought about it in this way. It's simply about sounds, the colors of the sounds. First I was "knitting", then there was the drum kit, and later percussions.
When I said to my parents that I want to play drums they asked why not a guitar or piano. But they bought me a drum kit; I got friends together into a band Kmečka godba; we played punk hard core.
I also went to the Vodnik Manor Music School. But it took a friend who finally explained things to me so that it made sense, so that things opened up. I started playing a lot. There was a period when I wanted to get more academically established. I wanted to study music, but I was told that I was too old. So I decided to learn on my own.
I even left collage because of music. I studied South Slavic languages and classical philology, and I was very good because I did everything 150%. Then I started playing a lot, and would have to do college part time. But that wasn't for me.
Marta: How did you learn to play different drums and percussions, different styles?
Marjan: On my own. I was listening a lot; I still do. It takes time. I applied myself to study music, musicology, collected materials, mainly Balkan, Oriental, Mediterranean music. I look at other styles as well, yet focus on these three. I do what really interests me.
It's not that I would listen and say "oh, this is so" and "oh, that is so". I listen, let it go, and then play it as a sketch. And then I return. And return again. It's a process. That's how I learn. Not only from the head, not only from the heart, but a combination of both.
I also set boundaries for myself; I don't take on everything. My specialty is ethnic percussions. But even there I set boundaries: I can't be a specialist for all ethnic music.
Each ethnic sound comes from its own culture, it belongs to that culture. For example, the uneven Macedonian rhythms stem out of the language. Macedonian language has many two- and three-part words. The rhythm of the language is uneven. Two and three is five, two and two and three is seven. They didn't say: "Let's create a tough 7/8 rhythm to be a little different." No, it comes out of the speech, the nation, their culture, mentality, history.
It's the same with jazz. White intellectual musicians cannot comprehend its very core. They can get very close with lots of listening and playing, but cannot truly comprehend the soul. There's nothing wrong with this; these are just facts.
The same is with the ethno music. Well, jazz is also ethno music in its essence. That's what I'm interested in, the soul, the spirit.
Musicians, who play ethno, get often upset with this kind of thinking. I'm not attacking their determination, their desire to play. Of course not. Today we are going to see the Slavic Soul Party, an American band, in Brooklyn. It's thunder, machines. Fine, good, but you are aware that this is not true ethno music, right?
Once, waiting at the Belgrade train station, I got to jam with a bunch of gypsies. They saw that I could play, but when they were getting deeper into their gypsy improvising, I was asked to stop. They knew right away that I could not go all the way into the depths because I don't have a gypsy soul.
Marta: You mentioned the color of the sound.
Marjan: When I say it this way, it's more picturesque, it's more the way I work.
I play melodically, even though my instruments are drums and percussions.
Sometimes a colder approach is also needed. Perhaps I play too melodically for some. Different people different styles.
The drum kit for example, it always bothered me that it didn't sing. It's important to find the groove. It's not about hammering in the pulse with scientific precision. But again it depends on the piece itself.
You need to feel the groove, the rhythm. Gypsies are good at that. They feel their rhythm, their music because it's from inside of them.
---
Marta: What are you plans for the future? What's the path ahead?
Marjan: Everything is open. I'm interested in gazillion of things, different collaborations, different musicians. I don't have a big philosophy.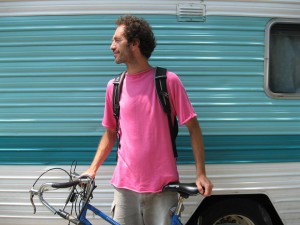 ---
Marjan Stanić is teaching outdoor summer workshops for drums and percussions in Ljubljana, Slovenia, from July 6-26, 2015. For more info click here.
---
The short version of this interview was published in the Newsletter of Slovene Embassy in Washington, D.C., on July 10, 2015.
---
OVER TO YOU, DEAR READERS:
How do you experience Slovene & Balkan rhythms? Share your thoughts + impressions below. Thank you.